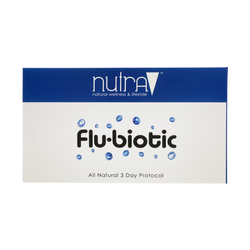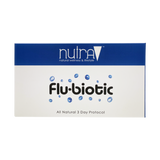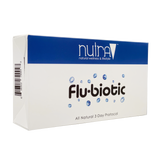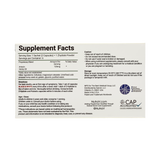 100% Money Back Guarantee
Free Shipping on US orders over $199
Curious what the buzz is about? We are proud to have incredibly loyal and happy customers and we're confident you will be too. If for any reason you're unhappy with our products, we offer a 100% money-back guarantee. No questions asked.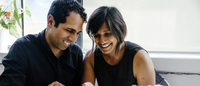 Get your nutrient packed supplements delivered quickly and at no cost to you when you spend $199 or more with NutraV.
Flubiotic
Immune Booster (3 Day)
Get Free Shipping*
---
Free Shipping in the US for any orders over $199!
Boosts Immunity
Actives GI System and Digestive System
Works Quickly
Feel like you've got a cold or flu sneaking up on you? 
Fear not! Flubiotic has you covered. It starts fighting off that virus within hours and wipes it out before those symptoms get the best of you. Two doses, for three days, and BAM! Back to feeling like a million bucks.
This protocol was developed to support the immune system when fighting the flu or flu-like symptoms. The first component of Flubiotic focuses on detoxing, while the second component supports antiviral and antibacterial functions in the body.
The Flubiotic protocol is composed of 2 capsules and a sachet of Z-Hydration taken daily. This blend of plant based elements may be effective in supporting antiviral and anti-inflammatory mechanisms in the body, while producing zero negative side effects. Due to several biological pathways supported by the natural herbal components in Flubiotic, it can help defeat the spread, inhibit the replication, and increases host immunity against many types of viruses.
Components of natural herbs have the ability to:
Cause new DNA expression, which creates cellular immunity response to viruses. Induce a reduction in RNA viral expression, thus defeating viral replication.
Direct attenuation of viral attachment, by chromatographically reducing viral load.
And causing an upregulation of cytokines like TNF-a, IL-12, il_4, IL-6, IL-10, which cause a complex adaptive immune host response, which defeats the virus infection.
Flubiotic is a unique combination of proprietary capsules used to support the immune system.
Certified Gluten-Free
Vegan
NON-GMO
All-Natural
Take one sachet of Flubiotic with Z-Hydrate every 8 hours for 3 consecutive days. Some individuals may feel relief after the first dosing, however we recommend to finish the protocol.
Q: How do I take Flubiotic?
A: Adults take 2 capsules (one black and one white) all at once. The second step is to add 1 stick of Z-Hydrate to 8oz of water and mix thoroughly before drinking. Take the Flubiotic capsules and the Z-Hydrate within 5 minutes of each other.
Q: What is the serving size?
A: 2 capsules (one black and one white) and 1 stick of Z-Hydrate mixed in 8 oz of water.
Q: When will I feel something?
A: Within 24 hours.
Q: Can I take Flubiotic with other supplements?
A: Yes, but it's recommended to take this supplement with food only.
Q: Should I take Flubiotic with food?
A: Yes.
FREQUENTLY ASKED QUESTIONS
Q: What is Flubiotic?
A: NutraV Flubiotic is an immune booster with antiviral properties.
Q: Who should take Flubiotic?
A: Anyone who wants to boost their immunity or feels the onset of a cold, the flu, a sore throat, and fever.
Q: Why should I take Flubiotic?
A: If you have flu-like symptoms, feel sick, weak, or have a fever - or simply if you want to boost your immune system to ensure you're best protected, especially if you're exposed to others with colds or the flu, and especially in seasonal situations where colds and the flu are more prevalent and contagious.
Q: What does Flubiotic do?
A: The Flubiotic blend of nutrients synergistically boosts your immunity, decreases systemic inflammation, improves digestion and shortens the viral load so you can get back to optimal health, fast.
Q: Why is Flubiotic different from other supplements?
A: Flubiotic is a one-of-a-kind, all-natural supplement formulated with our proprietary blend of ingredients and process, which shortens the viral load.
Q: Is Flubiotic dairy-free, soy-free, gluten-free, nut-free, and Vegan?
A: Yes. Flubiotic is made without dairy, soy, gluten and nuts and is tested to be below detectable levels. It is completely Vegan-friendly too.
Antiviral
Antiparasitic
Antibacterial
Neuroprotective
Immune boosting
Anti-inflammatory
SCIENCE BACKED SUPPLEMENTS

We source only the BEST Wild Crafted Plants and Materials

Our Growers Sustainably Harvest the Finest Raw Ingredients

We 100% Money Back Guarantee our Lab-Certified Products

You Get ALL the Natural Health-Boosting Benefits and MORE!
Customer Reviews
I recommend this product
We always keep Flubiotic on hand!
We have purchased MANY boxes of Flubiotic and highly recommend it to all our friends and family.
01/20/2022
Yusleydys

United States
I recommend this product
Thanks
Thanks so much for help me
10/08/2021
Anne W.

United States
I recommend this product
I'm familiar with this excellent product
It stopped an impending flu immediately. I can't believe it's not the COVID cure.
09/21/2021
Juan

United States
I recommend this product
The Proof is in the Products
My Experience was very amazing as I had gotten a condition very similar to what almost killed me on a trip to Africa. My personal physician referred me to a specialist that did not help me and than to another. Meantime a friend and business associate informed me of this particular gentleman that had a company and products that were supposedly good and might help. My friend called the gentleman and had him send me some product, Within five days, five days of taking the product I was much much better and went on to recover where the specialist could not even tell me what was wrong with me. Since than I have used the flu-biotic with immediate success and back to work, I have used and use Heart Plus, Z Hydrate and am thrilled with the products. I just ordered a batch of products for my son with COVID to recover and get back on the right track. Don't take my word read up on the products they are all natural plant based products that are absolutely amazing and inexpensive. This supplements have been recommended by me to my family and friends that have gotten ill and recovered. It is very costly to get sick, Invest in your health with these products. I am a senior citizen over the seventies and I feel better than most in the forties. I recommend the products without any reservations as I use them and have proven to be effective. Best to your health
Thank you so much for your review, Juan! We're happy that our products have been able to help you boost your vitality and immunity!
08/04/2021
Kyle M.

United States
I recommend this product
10/10 Highly recommended
I was recommended this product from a friend after contracting Covid. I had some serious symptoms including 102.7° fever, migraines, cough and sore joints and skin. After taking my first dose within four hours 60% of my symptoms disappeared including the migraine and high fever. After my second dose I felt 80% better and the only symptom that remained was my sensitive skin. On the last day of my dose I no longer had any symptoms and felt 100%. I highly recommend this product to anyone who is experiencing Covid or any flu like symptoms. I just bought two more of the products for a family member and freind.